Business decision analysis, business decision management, and roadmapping services for your most pressing business problems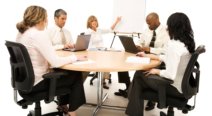 Managing a business is all about managing change. Business decision analysis focuses in on the key drivers of change: your most critical business decisions. Decision management provides the framework for managing that change, enabling decision implementation alignment at every level in your organization. Our model and approach to making and managing your business decisions create the framework for solving today's problems while providing a clear roadmap to the future.
Business decision analysis and management moves you from information overload to effective group decision making & knowledge reuse
All problems can be described and solved via a set of connected decisions. Our services are built on a decision making process and model, benefiting from over 15 years of research in a corporate environment. Decisions become the common language for the business, facilitating decision implementation at all levels and across all key roles of the organization.
Here are some of the benefits provided by the services using our proprietary approach:
High performing teams are enabled to make higher quality decisions faster and easier that can be subsequently communicated and managed.
Every decision made is captured in a way that creates knowledge for the organization that can be reused.
Decisions transform requirements enabling you to manage change and issues.
Decisions provide the common language across organizational roles that facilitates the group decision making process.
Let us help solve your critical business problems using these focused business decision management and analysis services
Fast Framing™
We facilitate teams to rapidly capture and frame out the top 20 to 30 critical decisions for a specific business problem.
With decisions as the common language, Fast Framing™ is well suited to address problems in Strategy, Technology, Product Development, Test, and/or Deployment.
Product and Technology Roadmapping
Facilitate teams to develop multi-year (3, 5, 10, ...) product/technology roadmaps.
Highest value innovation opportunities are identified.
Critical technology and/or resource gaps are highlighted.
Roadmaps inform decision making in the context of implementing the business strategy.
Business Decision Analysis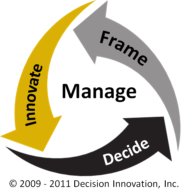 Detailed analysis is performed for groups of related decisions using our decision making process.
An appropriate set of options are identified to protect against information overload while avoiding common decision making mistakes.
Misalignments between strategic and operational decisions are identified.
Our services are provided with a flexible delivery approach that includes consulting, team facilitation, and/or workshops.
Every business is unique. Contact us to learn how we can best address your specific business analysis needs.

Request Services consultation
Return to from Business Decision Analysis to Decision Analysis Services