Products that can enhance your decision making skills and capabilities
Today's environment of increasing complexity and information overload has increased the challenge in making good decisions. These decision making products can enhance skills and provide decision making support for difficult choices.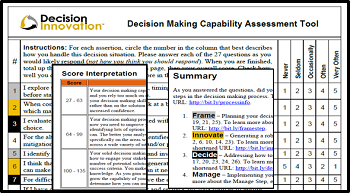 Use this decision making skills assessment to find change opportunities where value is created. It targets the practices in your organization used to make decisions. Links are included in the skill assessment that provide targeted information for quick win learning to improve group effectiveness.
Follow the text or image link to learn more about our capability assessment.
Higher complexity leads to more criteria and options to consider when making a decision. Decision analysis tools provide the support needed to address this added complexity while adding clarity to the process. Tools can help you enhance your decision knowledge and skills while allowing you to build and extend work from previous decision making efforts.
Follow the text or image link to learn more about our decision analysis tools.