Look to Decision Innovation for your decision analysis, decision making help and services needs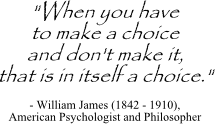 Are you overwhelmed with information? Do you face more options than seems reasonable? Our decision analysis and decision making help services may provide the solution you need. We are living in a world, that unlike any time in the past, we contend with an overload of choice. If you need help sorting through this overabundance of options, we are ready to provide decision analysis and decision making help in support of the decision (or decisions) that you want or need to make.
Our business decision analysis services can accelerate your strategic decision implementation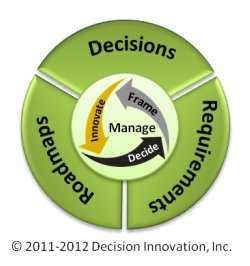 Our connected decision approach, combined with our proven process, will help build the decision knowledge and effectiveness of your organization. Learn more about these business decision analysis services here.
We want to help, but let's make sure that Decision Innovation can add value to your decision?

Do you know the value of your decision? Let us provide you a estimate (at no cost to you) of your decision's value before you use our decision services. Provide us some information about your decision in
our form below
, and we will provide an estimate of the potential value of your decision, and suggest how our services might help in your decision making effort. There is no obligation to use our service; this is only an estimate provided at no cost to you.
If we can't really help, we will let you know. Let's not waste your money and time (or ours) if our decision analysis expertise and decision making process will not improve the value and quality of the decision you need to make.
What if a quick consultation is all you need?
Maybe you have already done the work, or are worried that you may have looked at too few alternatives. You may just want a critical ear that can help increase your confidence. As our valued customer, we are glad to provide a quick decision analysis consultation via a phone call.
Phone consultation pricing and arrangement
Pricing is in US Dollars and priced below in options of fifteen, thirty, forty-five, and sixty minute options - just select the option you want, add your contact email address, confirm your email, then click Buy Now. After payment, we will contact you by e-mail within twenty-four hours, to arrange a mutually convenient time for our call.
Not sure if we can provide the decision making help you need?
Request our free decision value estimate in the form below. There is zero risk, and this will provide the information you need to know if it is worth taking the next step.
Return from Decision Analysis to Home
Request your decision value estimate at no cost to you!
Use the form below to request your decision value estimate. The more detail you can give us regarding the decision you are trying to make, the better able we will be to help you estimate its value. This is a benefit to you, since without a sense of the value of the decision, you will have little basis from which to determine how much effort/money you should spend in making the decision.
The information you share with us is protected as described in our Privacy Policy.