A decision making capability assessment to focus organizational improvement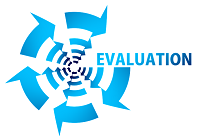 Our decision making capability assessment helps find change opportunities where value is created. It targets the practices used to make decisions within your organization. This capability assessment can be shared across the organization to help in assessing the maturity of decision making processes, and it can be used to identify targeted investments that will increase group effectiveness.
This assessment is based on four essential steps in the decision making process. Three levels of scoring maturity are used to identify next steps for focused improvement. Links are included in the skill assessment that can provide targeted information for quick win learning.
Decision making skill assessment made simple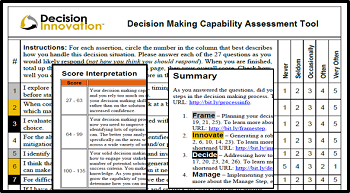 Save assessment development time and effort by taking advantage of features already included with our evaluation. Benefits include:
Team members can quickly respond to 27 decision making questions where they circle a score from 1 to 5 where the meaning ranges from Never to Very Often
Two to ten minutes to complete and score the assessment
Simple instructions included at the top of the first page
Easy scoring by adding up the totals for each column for each page
Once scored, team member gets immediate feedback on his assessment with suggestions of what could be done to make improvements
Your human resources and/or employee training departments can have a list of recommended next steps for each of the 3 assessment levels provided by this assessment tool, leading to a more effective workforce
Five shortened URLs are provided for an immediate opportunity to learn
Supports printing of a perfectly formatted decision capability assessment survey
This assessment does not require special software. It uses Adobe® Acrobat Reader version 9 or later.
Target decision making capability investments where it is needed most
Effective decision making is the key source of value in any organization. Focused investments in decision quality improvement targets this source of value creation.
Use this assessment to determine the current decision making maturity for your organization and identify and target quick win investments in:
Training and education in essential decision making skills
Management and leadership development
Improvement in group decision making process and collaboration
Decision analysis tools and techniques
Decision automation opportunities
NOTE: For a one-time customization fee, this assessment can be branded to your organization with links changed to point to corporate approved resources.
Return from Decision Making Capability Assessment to Decision Making Products

- OR -

Return from Decision Making Capability Assessment to Decision Making Process