Complete your decision analysis with our decision evaluation worksheet

Our decision evaluation worksheet can be used to help you complete the decision making process, and is provided at no cost to help with decisions you are trying to make. Performing the decision evaluation is described in the Decide step, how to make a decision.
The evaluation worksheet includes descriptions for all elements in the decision matrix. Any number of options can be evaluated by printing more copies of the decision alternatives pages.
This decision evaluation worksheet enables you to capture the success criteria, decision alternatives and other analysis information from our 4-step decision making process.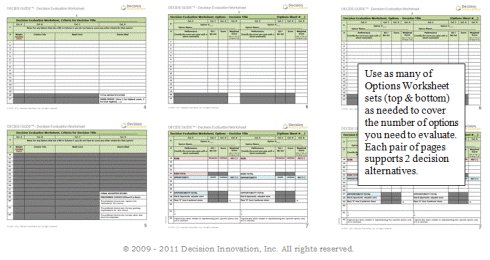 This worksheet will help you:
Clarify and capture and your success criteria along with your preferred weighting (priority)
Summarize your decision alternatives
Score each solution alternative for each criterion
Capture the reasons for your scores
Make adjustments for major risks and opportunities
Identify requirements that will affect (or constrain) other connected decisions
Capture initial implementation tasks for the selected solution
To receive your copy of the Decision Evaluation Worksheet, please enter your name and email below.
We will email you a link so that you can download a copy immediately, after you respond to the verification email.
We respect your privacy and your information will never be shared with anyone else and you can unsubscribe at any time.
If you need help performing the decision evaluation
Depending on the value and complexity of the decision you are trying to complete, you may want some help. If so, go to our decision analysis webpage and explore our phone consultation options.
Return from Decision Evaluation Worksheet to Decision Analysis Tools