Decision analysis tools to assist your decision making efforts
This decision evaluation worksheet is part of a collection of general decision analysis tools that can be used to help you complete the decision making process more efficiently. It uses a decision making matrix to assist you in capturing the criteria, options, risks and opportunities for important decisions. The evaluation worksheet supports Kepner Tregoe analysis and similar multiple criteria decision analysis techniques.
The Frame, Innovate, and Decide steps, describe how to make a decision using the evaluation worksheet. Decision analysis tools assist the process by allowing you to capture, save, update, share, and reuse decision knowledge as well as print the decision information at any time during the process.
Decision making matrix that can be used for any decision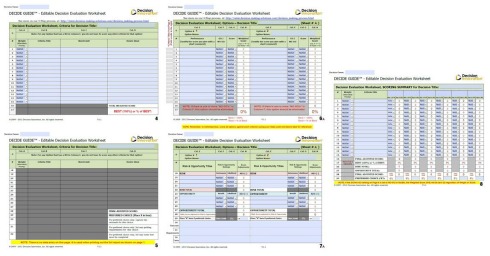 This Adobe® Acrobat PDF forms-based version of our Decision Evaluation Worksheet includes the following valuable features:
Supports multiple criteria decision analysis techniques including kepner tregoe analysis
A decision making matrix that evaluates up to 15 criteria(success factors) and 6 solution alternatives (options)
Capture and save decision information electronically, updating as often as needed
Provides help text with immediate guidance for every entry
Easy scoring via pull-down selection options for Weight (priority), Score and Go/No-Go fields
Single entry for common fields used on multiple pages (such as Decision Title, Decision Owner, Option Name, ...) and edit from any page
All scoring calculations are performed with immediate update
Provides an initial rank for all entered options so you can focus your risk and opportunity analysis on only the top performing alternatives
Enables scoring adjustments for both Risk and Opportunity
Final rank information is presented after risk and opportunity adjustment so you can clearly see the best performing option(s)
Includes a scoring summary page enabling quick changes with "big picture" overview
Provides an option to print a pre-formatted decision report
All of the above for only $3.95
It is best when decision analysis tools do not require special software. The good news is this uses Adobe® Acrobat Reader version 9 or later. Most computers already have this application installed. If you need to add or upgrade your Acrobat Reader, you can download it for free from
Adobe's website
.
If you need help using our analysis tools or performing multiple criteria decision analysis
Depending on your experience with decision analysis tools and techniques, you may want some help. If so, go to our decision analysis webpage and explore our phone consultation options.
Not ready to invest in an easy to update worksheet?
If you are not sure yet, but would still like to explore this decision making matrix, learn more about our free printed decision evaluation worksheet.

Return from Decision Analysis Tools to Decision Making Products

- OR -

Return from Decision Analysis Tools to Decision Making Process