Choosing Decision Support Software - Why DKC?
Better results from high value decisions
Criterion 1 - Decision Support Software (DSS) should improve results from decisions with aggregate value of greater than $10,000.
The DSS must help in achieving goals and meeting the needs and desires of the organization. Likelihood of preferred outcomes should be increased.
The connected decision model upon which DKC is built provides multiple mechanisms to improve results. This model enables every decision to be placed in the context of the decision environment that constrains it, increasing the clarity in defining success and ensuring that requirements coming from proceeding decisions will be met and not missed.
At the decision network level, decision value and priority are explicitly defined to help ensure that decisions that generate the greatest results are getting the required consideration.
Within each decision, criteria are developed and prioritized to maximize preferred outcomes and provide the relevance filters needed to address ever increasing amounts of data and information.
Promote values and alignment
Criterion 2 - The decision support software should help ensure values are maintained with each decision and avoid contradiction with related decisions, creating a "single version of the truth" for the entire organization.
Vision, mission, and values should provide the guideposts for decision making in your business, from strategic decisions through to operational decisions. In today's environment of information overload, communication is often not enough.
DKC's connected decision model creates "alignment by design". Requirements between decisions carry the information needed to avoid contradiction and misalignment that can occur when decisions are made in isolation. Aspirations and the standards for excellence from these guiding decisions can be conveyed as constraints and goals for every element of the business strategy.
Core values that define and reinforce the business identity provide a "single version of the truth" that establishes the goals and constraints for the decisions that drive the business.
Collaboration
Criterion 3 - The DSS should encourage proactive collaboration that improves decision results and accelerates decision implementation
Proactive collaboration accelerates decision results and increases effectiveness before and after a decision is made. Teamwork creates transparency and avoids unnecessary delays at the point of making the decision.
Built on a social enterprise platform, Decision Knowledge Center provides the environment and process you need to enlist talent from within and outside the organization. Facilitated organizational decision making is easy, with a single place to manage sharing, communication, reports, and tasks associated with making complex decisions.
Including decision stakeholders during the decision making process will help minimize resistance, reduce negative emotions, and enlist support for necessary changes and actions during implementation.
"Groups" are easy to create and manage to provide the communication needed for change. Access and security features provide the level of control needed to ensure confidential information is handled responsibly.

Knowledge reuse
Criterion 4 - The Decision Support Software should accelerate organizational learning and increase knowledge with each decision.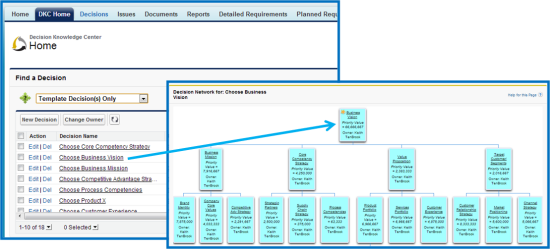 A decision framework captures the knowledge created and improved in an organization. Expert knowledge can be captured and reused as a pattern of recurring decisions that underlie the DKC decision model.
Decision Knowledge Center features support the development of decision templates, empowering reuse of knowledge developed from previously made decisions. Thinking resources can focus on creating new value for a decision instead of recreating knowledge from past efforts.
Improved outcomes are increased as best in class decisions are reused in shared templates.
Platform
Criterion 5 - The DSS should leverage the capabilities of a robust platform.
Scaleable (from 1 user to 1000's)
Instant deployment
Secure
Customizable
High availability
Mobile support
Information integration
Reports and dashboards

Evaluates risk & advantage
Criterion 6 - The Decision Support Software (DSS) should evaluate risk and advantage for key alternatives to improve possible outcomes.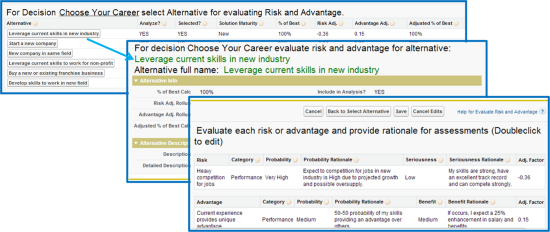 Excessive risks may cause you to eliminate an option even if it performed well against the success criteria. Similarly, opportunities may cause you to reconsider an otherwise poorly performing solution alternative.
Decision Knowledge Center builds risk and advantage analysis into the decision making process. This part of the decision analysis process ensures that solutions that are overloaded with risk and uncertainty are evaluated fairly against more feasible options.

Decision speed
Criterion 7 - The DSS should increase speed for making complex decisions effectively.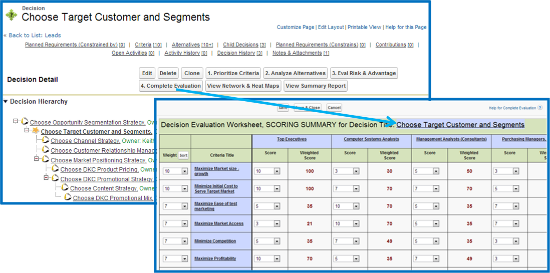 Information and complexity are increasing at the same time competitive pressures are demanding faster decisions.
DKC helps to maintain effectiveness in decision making by exposing all elements of a decision in a single webpage. Easy information navigation, along with built in process steps facilitates quick progress while avoiding common decision making mistakes.
A single spreadsheet view summarizes a "single version of the truth", eliminating time wasting arguments that come from disagreements on the data. Understanding is accelerated as decision participants can quickly access and improve the information needed to decide.
Tasks can be assigned and managed from each element of the decision, making it clear what information is needed and who will find it.

Increase innovation
Criterion 8 - Decision Support Software should expose and clarify opportunities for innovation.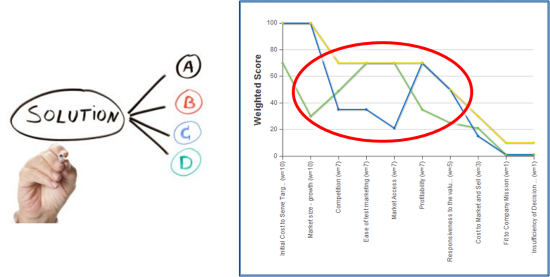 The opportunity to innovate increases when success is clearly defined and communicated.
Decision knowledge Center (DKC) makes it easy to see where new ideas or concept projects excel compared to each other, and the success factors defined for your business. If goals aren't being met, visualizations make it easy to identify where hybrid solutions might be considered.
Motivation and learning accelerates as you provide the decision information and communication needed to respond positively to innovation and transformation initiatives.

Reduce defects
Criterion 9 - The DSS should manage decisions to expose and reduce defects and avoid wasted efforts.

Choosing to do the right things more often avoids the wasted effort of failed projects. Clarity increases when information is placed in context of the decision to be made. The DKC Connected Decision Model builds "alignment by design" and helps avoid the waste of redundant efforts that occur through lack of awareness of other related activities.
DKC's built in process will help minimize and squeeze out many of the common thinking errors and biases associated with decision making. Decision support from DKC directly addresses human memory and cognitive limits that are leading to defects in an environment of increasing complexity and information overload. Information is organized to make decisions, not overwhelm decision makers.
Even when outcomes fail to meet goals, decision records in DKC enable learning that can improve future results.

Other criteria for choosing Decision Support Software - You prioritize
Competitive feature capability

Workflow engine; visualization

Return on Investment

Low cost; minimal startup investment

Decision implementation support

Event and task management; decision breakdown structure; decision analysis services

Scope of use

One click navigation; edit in place

Ease of use

Low cost; minimal startup investment

Learning effort

Multi-level contextual help
Want to know more? Just click one of the buttons or call us at 1-224-795-7722.